Welcome and hello - we are so excited to have you join the Pitchly community!
Pitchly is designed to be easy to use. I'm confident that within just a few weeks, you'll be on your way to solving the issues that plague so many marketing groups: generating data-driven tombstones quickly, easily, and consistently.

Getting started in your account
Watch Welcome to Quick Start for a brief 4-minute synopsis of your Pitchly account.

Getting to know your trial account
Your account is pre-loaded with fields most frequently used by similar customers. You'll see a data table labeled "Deals" pre-populated with these fields:
Deals: Deal descriptions for the purpose of creating tombstones
To help you get started, you'll be sent a few Pitchly Pointers. Check your email for guidance or jump into Pitchly to receive in-app tutorials to help guide you step by step.

Manage your data table
To make any updates, click the three dots on any of your database tables and select Manage Database. This is where you'll add fields, change any of the field names, and add or change dropdown options.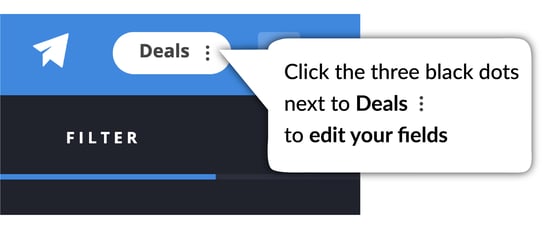 Add your fields
While on the Manage Database screen, you can hover over any of the question marks to display additional guidance. For example, you'll see the below explanation of the various field types when you hover over Type.
The one thing you can't do is change the field type to an existing saved field. For that, you'd simply need to add a new field and select the appropriate field type from the dropdown list.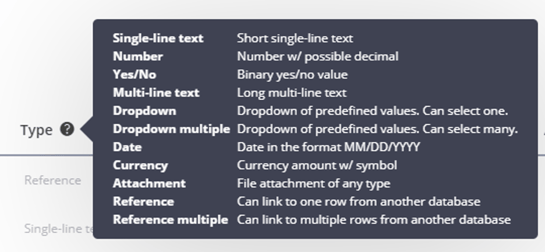 Put some data in the system
1 record at a time
Click "New Row" from the Main View of any data table (located to the left of Import) to add new records one by one.

Import from a CSV
In addition, you can import data from a CSV file quickly and easily. This is extremely helpful if you have a large data set that you'd prefer not to add one by one. View the video below to see how that process works.

Filter your data
Create a filter to find records matching specific criteria. (Be sure to click "Save Filter" if you think you'll use it again. You can also share it if you think your co-workers might need it too!)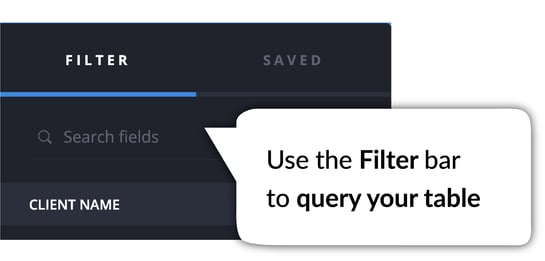 Now that you've got the hang of finding data in Pitchly, let's put it to work.

Now that you understand how to manage your data, let's talk more about putting it to work generating tombstones. The Documents App can be used to generate any number of pitch assets including tombstones, bios, and logo slides. Sample tombstone templates are stored in your trial account, however, feel free to get creative and customize these templates to fit your desired look and feel.
Manage tombstone templates
To add a new template or update an existing one, watch Managing Pitchly Templates to see the Documents App in action. Once you get in there and whip up something fancy, send it our way so we can celebrate with you!

Export your tombstones
Once you've found the right segment of data, click the Documents tab to select and export your tombstones. Follow along in the video below to see how you can easily find and export the right set of tombstones in under one minute.

Pitchly Forms Application
Use Pitchly Forms to collect and manage data, and track proposal requests. Forms are powerful because they allow you to collect information in a structured way.
Here are a few ideas that may be the perfect fit for using the forms application:
Team member details
Add new deal/tombstone
Tracking pitch and proposal activity and outcomes
Using Pitchly, it's as simple as creating fields for the various pieces of data you'd like to collect. Once a field is created it immediately becomes available as an option to include on a form. Forms can easily be shared with anyone - you have complete control. Check out the video below as we walk you through how to create and manage forms.
How are things going?
If you have a minute, we'd love to hear from you. Use the "Send us feedback" button to complete the Pitchly form.


Good luck & let us know if you have questions!